Beach of the Week: Yelapa, Mexico
Travel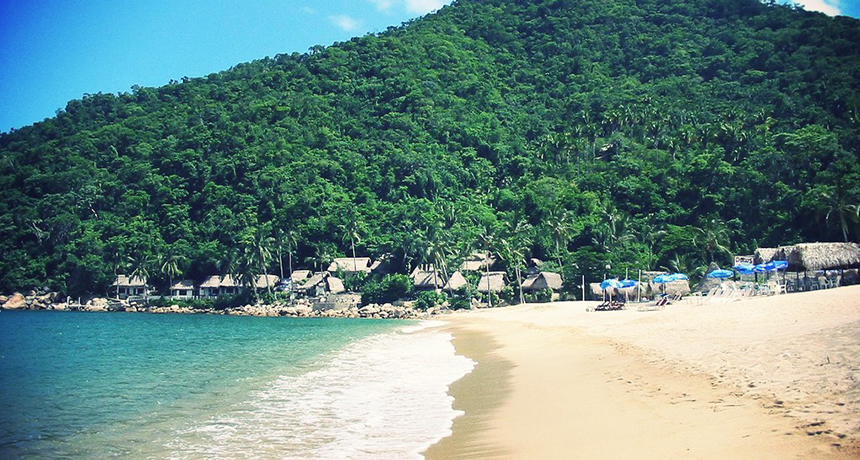 Each week we bring you one of the best beaches in the world as our Beach of the Week and this week's best beach is one of Mexico's most beautiful beaches.
BEACH: Yelapa, Puerto Vallarta, Mexico
WHERE: Along Puerto Vallarta's South Shore, tucked away into the southernmost cove of Banderas Bay. This beach backs on to a nature-loving fishing village that couldn't be more "one with the sea" (no seriously, they just introduced electricity and telephone services).
WHY: Many celebrities, from the likes of Hilary Swank to Bob Dylan (that's how you know it's good) could tell you why they retreat to Yelapa, but the sheer fact that they frequent this shoreline should be pretty self-explanatory. Beyond exclusive, this beach practically melts away your thoughts and worries with each ray of sunshine that beams down across the vast stretch of buttery beige sands. Several rustic palm covered restaurants dot the beach, luring hungry visitors with tasty Mexican cuisine, while a nearby gushing waterfall calls to adventurers for a romp in the refreshing waters.
HOW: It's as easy as hopping on one of the water taxis and indulging in a quick coastal ride. Taxis depart on a regular basis from Los Muertos Pier, Boca de Tomatlán and Mismalova. Or if you're in a rush and only plan on making a brief stop off here (which wouldn't we completely advise- it's just too lovely not to spend longer), various local day cruises make a stop at Yelapa along the way.
H2O TONE: Midnight Blue
SAND TONE: Graham Cracker Crust
STAY: Verana. Perched on a hillside overlooking the ocean, this luxury boutique resort and spa offers a panoramic view of breath taking mountain landscape and relatively untouched Mexican jungle. From indulgent spa treatments to rejuvenating yoga retreats, Verana makes it impossible not to completely regenerate. And the best part is that the hotel provides ideal transportation from the remote Yelapa beach to their even more remote location…via mule. Ándele!
By Sara Starkman