Interviews to Inspire: Chef Marc Giesbers
Lifestyle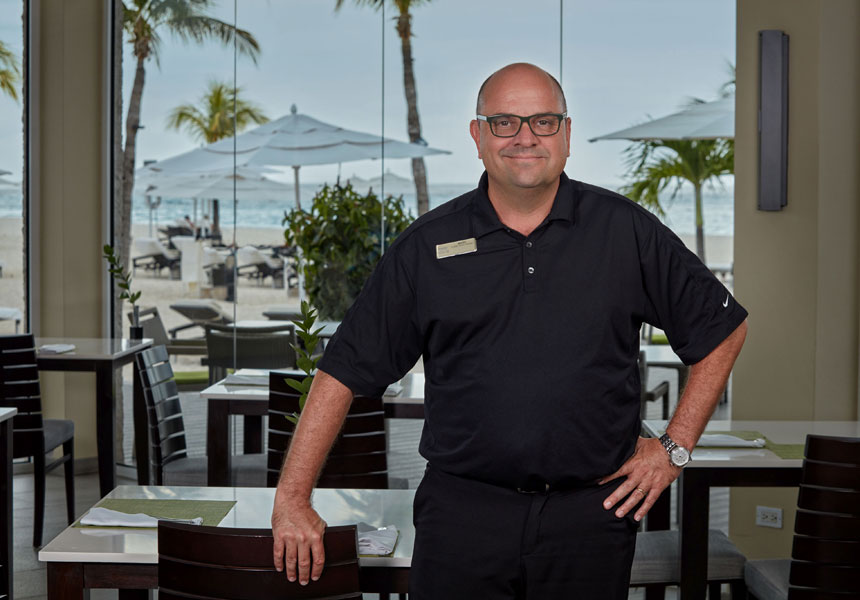 The next of our inspiring interviews from people who made the life changing decision to move to Aruba is chef Marc Giesbers who helms the kitchen of Elements, the first restaurant in Aruba to offer vegan and vegetarian menus. Marc started his career as a pot washer in the mid eighties, and worked his way up to Michelin star restaurants. He arrived in Aruba in 2000 for a life beside the beach and never looked back…
Did you always want to be a chef?
Yes. I always wanted to become a chef.  It's maybe a cliché, but since I was a young kid I have liked very much to assist my grandmother in her kitchen. A young chef was in the making…
Do people in Aruba have a love for food?
Like Papiamento (our native language), the cuisine of Aruba is representative of diverse cultures. Locals for sure have a love for food. They like a real Aruban BBQ, preparing an Indonesian meal, or to eat the fresh catch served at several eateries. One of the challenges in healthy eating is that we are a little island, and we need to purchase a lot of fresh products abroad. But actually, the good thing about the high prices is that more and more locals are going back to their roots and growing or purchasing locally sourced products like cucumbers, pumpkins, peanuts.
How does Aruba inspire you in the kitchen?
The mix of cultures reflects back in the dishes. The zest and tangy flavours from Spain, Portugal and Latin America. The Dutch brought the exotica from Indonesia, as well as their hearty robust cooking. This cultural melting pot brings enough inspiration for me to create new dishes that combine the styles.
Does Aruba have any amazing superfoods?
Yes it does. Of course, there are quite a few ingredients that Arubans grown locally and which have great nutritional properties. The main ones are "concomber di mondi" (cucumis anguria), calbas largo (similar to zucchini) , bonchi largo (long green beans), peanuts, cashew fruit, among others.
more and more locals are going back to their roots and growing or purchasing locally sourced products
Any current foodie trends?
Currently vegan, gluten free and organic eating are the main foodie trends.
Can you eat well in Aruba?
Absolutely, Aruba locals and visitors are more and more aware of the impact their food choices have on the health and well-being of their bodies and the planet. Recently more restaurants are adding vegan options to their menu, which are not only fully plant-based, but also healthy and minimally processed. Our restaurant was one of the first to offer a Vegan, Vegetarian and Gluten Free menu.
Does that mean sacrificing flavour?
No! I think there are enough alternatives using other ingredients to make a delicious "healthy dish". If you focus on healthy cuisine you discover so many possibilities. The sky is the limit.
What are your plans for your menu at Elements?
Eating well and avoiding food waste! Guests often remarked in the past that our food portions were too large which generated significant food waste. Therefore, we introduced perfectly sized healthy portions with nutritious protein servings completed wholesome carbohydrates and fresh vegetables. Elements' dining experience is now an extension of the resort's commitment to a sense of total wellness for our guests and on reducing waste.
Do you have any favourite dishes you like to cook?
Recently I created an excellent lionfish ceviche. Lionfish are beautiful, elegant, vibrant, graceful and unique ….. but the lionfish which is native to the South Pacific are an invasive threat to the reefs of Aruba. Lionfish have no natural predators and have multiplied formidably. But once stripped of its venomous spines, cleaned, and filleted like any other fish, the lionfish becomes delectable seafood fare and rich in Omega 3.
If you focus on healthy cuisine you discover so many possibilities. The sky is the limit.
Any other must-try dishes in Aruba?
Most foodies are interested in visiting local restaurants where they can appreciate the authentic Aruban flavors. Elements restaurant at Bucuti & Tara Beach Resort is located on one of the "dream beaches" of the world. We have fresh ingredients including sustainable fish and seafood, organic harvest and locally grown produce. Also we have the largest Gluten Free & Vegan menu dishes on Aruba. And of course don't miss my lion fish ceviche!
What is your favourite part about living and cooking in Aruba?
Living in the tropics all year round, what else could you wish for…..
When you're not cooking, what do you like to do in Aruba to relax?
Family time. I like to spend time with my lovely wife and son, go for a swim, a nice BBQ or go out for dinner – like me, my son likes good food.
Don't miss Marc's sustainable and delicious Lionfish ceviche on your next trip to Aruba…