Beach of the Week: Navio Beach, Puerto Rico
Travel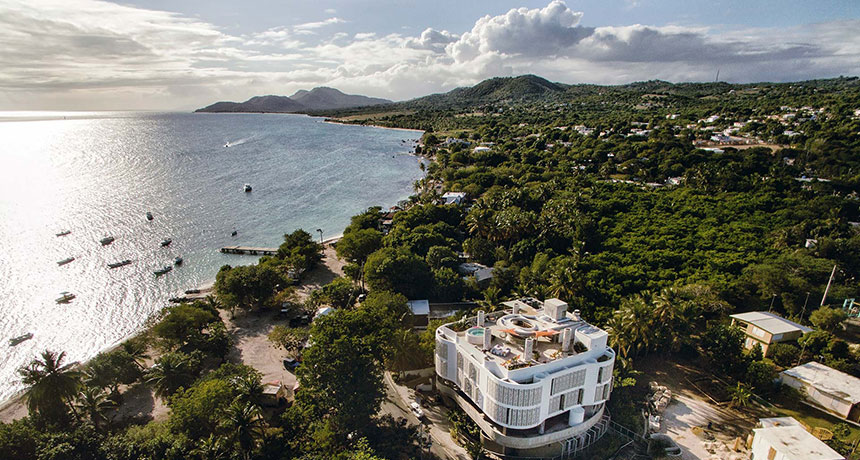 BEACH: Navio Beach, Vieques, Puerto Rico
WHERE: This sweep of white prettily book-ended by cliffs and frilled with swaying palms and lush forest is one of the hidden treasures on the island of Vieques.
H20: Luminous aquamarine
SAND TONE: Dazzling white
HOW: Hop onto a tiny seaplane from Puerto Rico's mainland and in 20 minutes you'll touch down on this dreamy isle. Once landed, follow the sand-dusted roads that trace Sun Bay from Esperanza into a tropical forest. When you arrive at the fork in the road, just take a left turn and you'll soon stumble upon Media Luna beach, but you'll need to venture a little further down for Navio's slice of sand – just look out for the local surfers who head there for the waves.
WHY: The island of Vieques is nicknamed the Spanish Riviera for its beach-strewn coast, so you don't have to venture far to find your own deserted cove, but this curve is a little pocket of sand that channels that castaway vibe to a T. In fact, it was used as the set of the 1961 film The Lord of The Flies based on the novel by William Golding. You might find a few locals brushing up on their boogie boards on the gentle surf, but you'll pretty much have the place to yourself. Come nightfall, you can also venture to the island's bioluminescent bays to see the waters glow— it's quite magical.
STAY: Concrete-clad El Blok hotel is a model of understated chic that you'll be more than happy to find yourself stranded in. The minimalist rooms strike the right balance between simplicity and luxury, and come filled with walk-in garden showers and Aseop bath products, all wrapped-up in a parred-back designer interior. The artistic vibe extends to the kitchen too where star chef José Enrique creates a fresh take on Puerto Rican fare that matches the contemporary surroundings.
WHEN: When you're this close to the equator, you're pretty much guaranteed sunshine all year round. Our tip? Winter is the most popular time to visit for a delicious dose of winter sun, but if you're after a real Robinson Crusoe experience, the summer months spell solitude, glass-clear waters and fresh mangoes to snack on.
Feeling inspired? Get in touch with our friends at Black Tomato to take you there.