Beach of the Week: Legzira, Morocco
Travel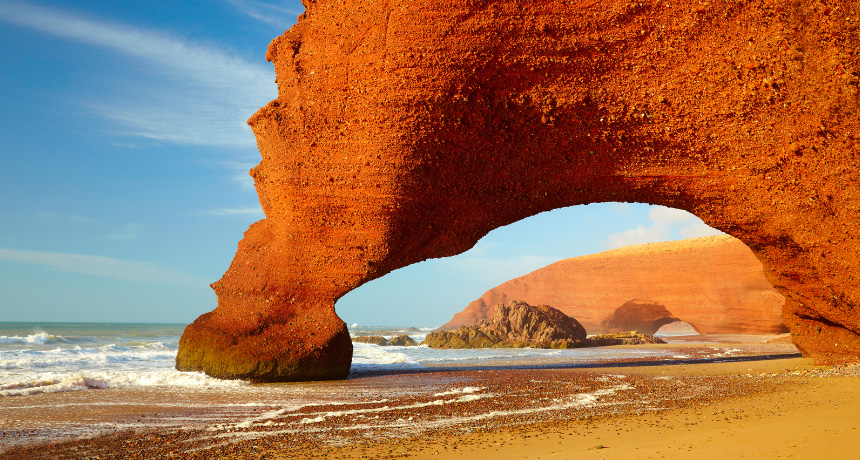 Each week we bring you one of the best beaches in the world as our Beach of the Week and this week's best beach is one of Morocco's most beautiful beaches.
BEACH: Legzira, Morocco
WHERE: Between Sidi Ifni and Mirleft Morocco, down Morocco's Atlantic coastline (just before the Western Sahara).
WHY: After days spent weeding through the bustling and vibrant souks, fighting for swathes of bold coloured silk and haggling for textiles and spices, trekking through the Sahara (by camel of course), and thoroughly exploring mosque after palace after mosque (tired yet?), a clandestine beach will be exactly what the doctor ordered. Muted rust-coloured cliffs with pebbled sand coves bleed into crashing waves, while two naturally formed stone arches stand with an air of regalness and purpose, making Legzira a true site to see.
Bearing witness to nature's work at its finest, years of erosion have chiselled massive holes in the cliffs to create these arches today. Unfortunately, they can only be viewed during low tide. So, stick around until the water descends. Trust us, it's worth it. And when you've exhausted your camera battery, a stroll along the shore will lead you to a smattering of traditional Moroccan huts that see the occasional fisherman trotting along via donkey. How very authentic.
HOW: Just hop on a local bus from Mirleft, Sidi Ifni or Tiznit and search for the faded sign at the access road (keep your eyes out because the sign is a bit worn and covered in graffiti). From here it's about a 20 minute stroll down to the beach. You'll know where you're going as the stunning scenery gives the beach away.
H2O TONE: Steel Blue
SAND TONE: Warm Apple Crumble
STAY: Nestled along the Oceanside, far from the hubbub of milling tourists and meandering Bedouin treks, sits the luxury boutique hotel, Dar Najmat. Living up to its name, (Dar Najmat means The House of the Stars), this respite is idyllic for taking in the warm evening breeze (while sat on your gorgeous sun terrace, naturally) gazing at the endless constellations swept across the sky (no light pollution here ladies and gentlemen).
By Sara Starkman