Beach of the Week: Ghajn Tuffieha, North West Malta
Travel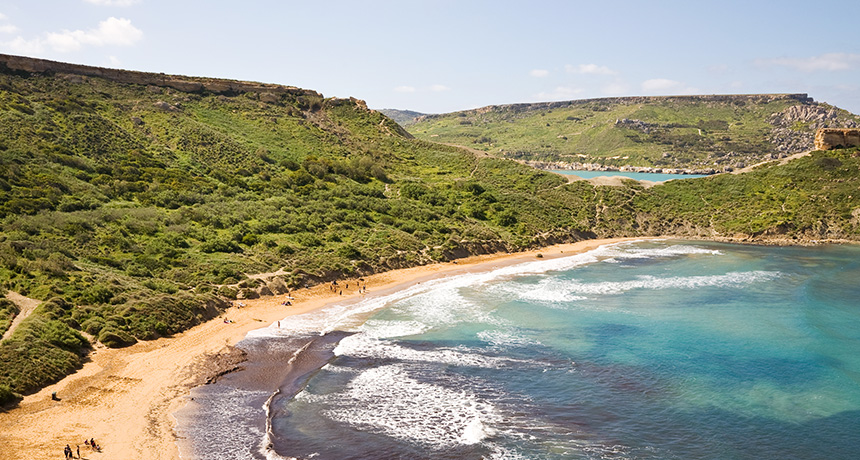 BEACH: Ghajn Tuffieha
WHERE: Nestled on the northwest coast of Malta, this is the little-known little sister of the island's bigger Golden Bay.
WHY: Ghajn Tuffieha is a lucky horseshoe shaped bay that's one of a kind and which has a whole lot working in its favour: reddish-hued sands, the crystal clear Med, a surf scene on the rise, apricot-tinted sunsets, a nearby natural park and cliff-side walking trails should the urge to stretch your sandy legs overcome you. Close to Malta's popular Golden Bay beach – yet practically undiscovered – this strand is strictly hush hush amongst the Maltese locals. Treasured away at the foot of natural stone steps and loved for its soft fine sand and uninterrupted tranquility fringed with spring green samphire and leafy tamarisk trees. Pack up a picnic, surf and sunbathe away the day then watch the sun take a dip into the serene Mediterranean Sea.
HOW: Thanks to Malta's famously efficient bus service (although the island's vintage and fabulously yellow buses have had a sleek makeover of late), this secluded stretch of sand is easily reached from the most popular areas like Valletta and Sliema and the nearest town of Bugibba.
H20 TONE: Jade green
SAND TONE: Rose gold
STAY: In the regal surrounds of the Xara Palace, fifteen minutes away in the medieval city of Mdina for helpings of coastline and culture in equal proportions.
WHEN: With short winters and long, hot summers, Malta speaks our language when it comes to climate but we like the shoulder seasons of May to June and September to October best for the Goldilocks weather – not too hot, not too cold but just beach right.