Beach of the Week: Eagle Beach, Aruba
Travel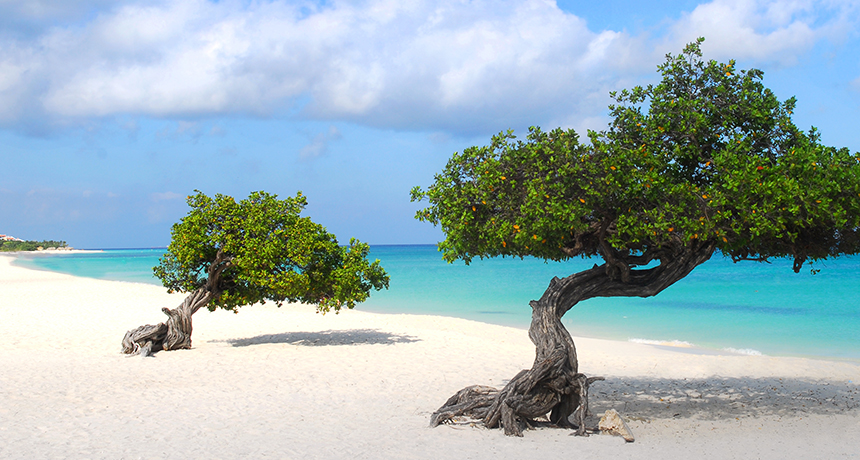 We're always looking to show you the most inspiring, 'take-me-there-now' beaches around the world. This week our best beach is one of Aruba's finest, Eagle Beach.
BEACH: Eagle Beach, Aruba
WHERE: This sandy stretch is often thought of as one of Aruba's most gorgeous beaches – and rightfully so we think. Eagle Beach is the widest beach on the island and a true natural beauty. You'll discover it on the west coast of the island, looking out across pristine waters, but don't be surprised if you recognise it when you get there… it's home to two of the most photographed fofoti trees, which create beautiful trademark silhouettes against the Caribbean sea.
H2O TONE: Vibrant turquoise
SAND TONE: Icing sugar (well, almost)
HOW: A taxi or hire car will take you less than 20 minutes to get from Queen Beatrix International Airport to Eagle Beach. From there, you are the same distance to the very north of the island, and only 35-40 minutes down to the most southerly tip. It's extremely likely you won't want to move once you get here though.
WHY: Aside from housing two of the island's iconic fofoti trees, Eagle Beach is a haven for wildlife and sees turtles come to lay their eggs here every year. If you're there during hatching season (May to November), watching the baby turtles hatch and make their mad dash for those azure waters is a spectacle not to be missed. A perfectly pristine paradise, Eagle Beach is the Caribbean island idyll you've been dreaming of.
STAY: A hop, skip and a step from the white sands is Amsterdam Manor Beach Resort, the perfect base for your time staying on Eagle Beach. A traditional Dutch building (did the name give that away?) with bright, airy rooms bring a touch of the Caribbean from the outside in. We love the character and charm that this place oozes.