Beach of the Week: Cottesloe Beach, Perth, Australia
Travel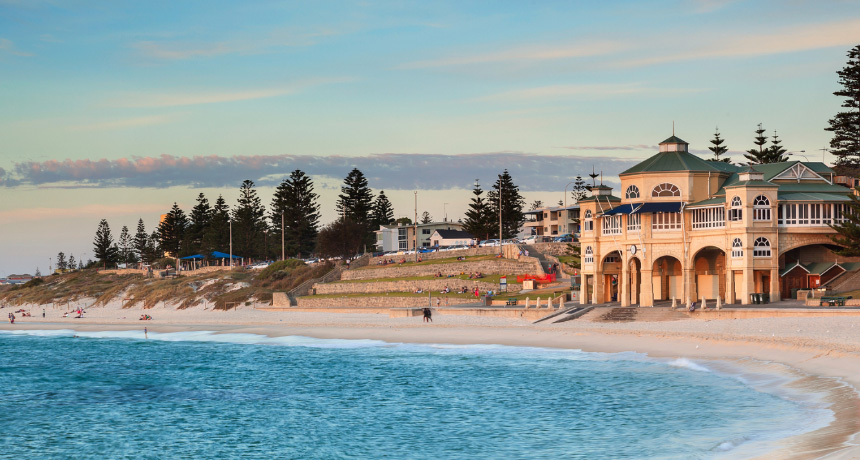 Each week we bring you one of the best beaches in the world as our beach of the week. This week's best beach is one of the most beautiful beaches in Western Australia.
BEACH: Cottesloe Beach, Perth, Australia
WHERE: Cott, as it is affectionately known, is neatly nestled on the western coast of Australia, slap bang in between the central business district of Perth and the Port of Fremantle.
WHY: Known for its vibrant beach scene, fantastic weather and breath taking sunsets, Cottesloe beach gives us more reasons to visit than we can shake a stick at. On one side, luscious grass covered slopes and huge pine trees give way to the (pristine) sands where revellers enjoy mid-day picnics and take snoozes in the afternoon sun. At sunset, the beach turns into a mesmerising light show of colour which is best enjoyed with a chilled glass of vino from the Indiana Tea House, conveniently located right on the beach.
HOW: Hop on a train from Perth city (it takes about 15 minutes). You'll want the Fremantle line to Cottesloe and from there you can walk straight to the beach. Simples.
H20 TONE: Azure blue
SAND TONE: Demerara sugar
STAY: The Cottesloe Beach Hotel.With a sexy new renovation under its belt, this iconic beachside hotel now boasts a suave new Beach Club (ooh). And, as it's only a stone's throw away from the beach (no, really, 50 metres, tops) this little beauty is perfectly placed  to leave for an early morning run on the beach, or for staggering back in the equally early hours.
By Emily Noszkay