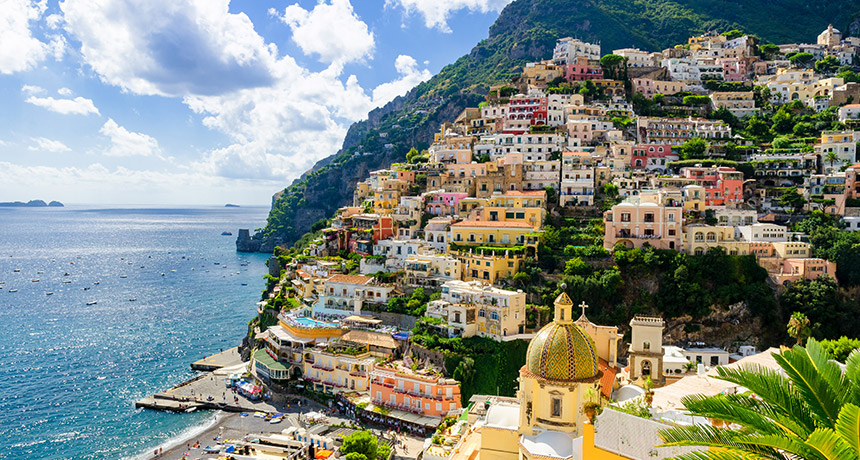 Positano, Amalfi Coast, Italy – for that dreamy coastal walk
Steeped in history and art, and offering the best in pizza, pasta, ice cream and coffee, rather unsurprisingly, Italy's coastline is a favourite with the BT team. Nestled beneath the Amalfi Mountains on the divine 'Path of the Gods' walking route, lays this pale pebbled beauty. Paddle in the topaz waters whilst indulging in a beach time stroll and gaze up at the pretty rainbow of quaint little buildings set into the hillside, before a well deserved sit down and an Amaretto.
WHEN: May – June
Portals Vells, Mallorca – if you're after Spanish seclusion
Mallorca has a lot more to offer than simply over-sized sombreros and straw donkeys, with mountain ranges, olive groves and miles upon miles of white sandy beaches (plus piña coladas with miniature umbrellas that come as standard) the largest of the Balearics is a must-see isle. Follow the bumpy track through the pine woods or moor up in the calm azure waters, either way this secret sandy scape offers some much needed respite from the hustle and bustle of Magalluf. Bask on the quaint 50 metres of sand or don a snorkel to truly explore the turquoise depths. But to really get back to nature, hop across to the nudist beach next door.
WHEN: June-October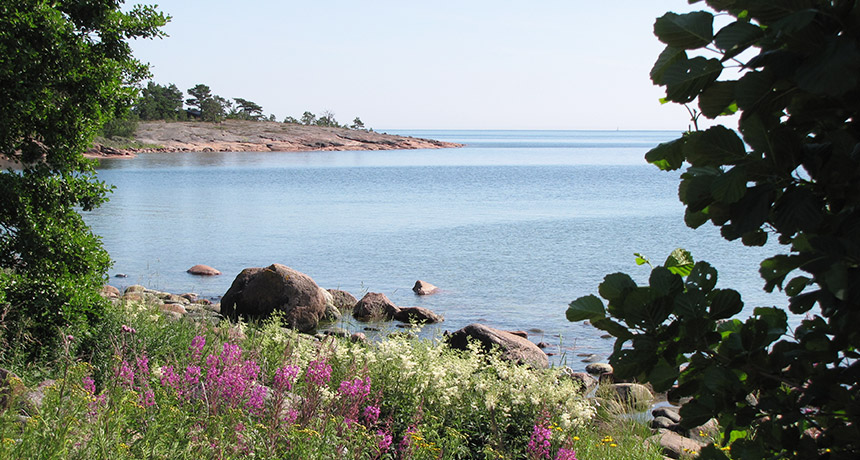 Degersand Beach, Aland Islands, Finland – for rustic charm
Both enchanting in winter, and wonderfully bright and optimistic throughout the summer, Finland is where trendy fast-paced cities blend with secluded, intriguing wilderness. Take a short flight from vibrant Helsinki to rural Aland Island, one of 6,000 craggy mounds forming the archipelago of the same name. Head west to the region of Eckerö for the delightfully blustery Degersand Beach, perfect for kite surfing, kayaking and sticking your toes into the sand. Be sure to wait around until dusk to watch the sunset, even stay all night, you can pitch a tent anywhere.
WHEN: June-August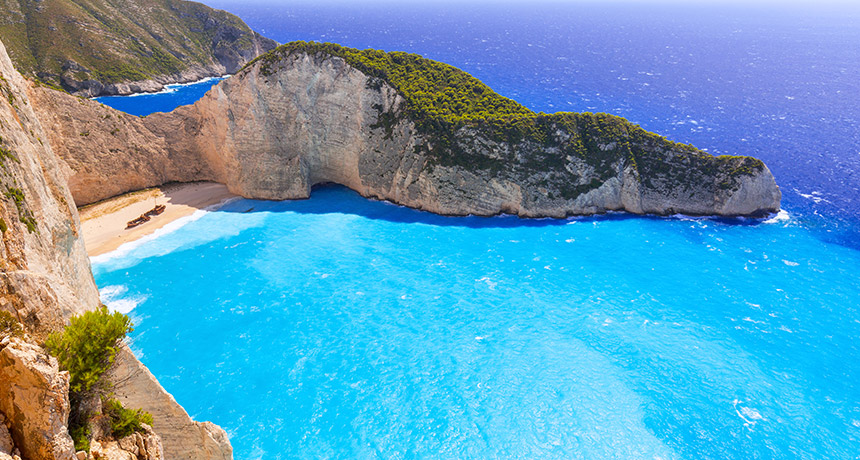 Shipwreck Bay, Zakynthos, Ionian Islands – for a truly magical adventure
Floating west off the Greek mainland is Zakynthos, a spectacular island rich in Greek culture, from the music and food to of course, the olive trees. Shipwreck Bay is perhaps one of the most famous beaches of all Greece, but do not let this deter you from frequenting its mystical shores. Met by turquoise Ionian waters, the creamy sands of this cove are only interrupted by a ghostly washed up shipwreck jutting out of the pure white plain. Before heading to this intriguing shore (which is only accessible by boat by the way) a trip up the surrounding limestone cliffs is a must, find the rickety viewing platform and capture that perfect picture of paradise.
WHEN: May-September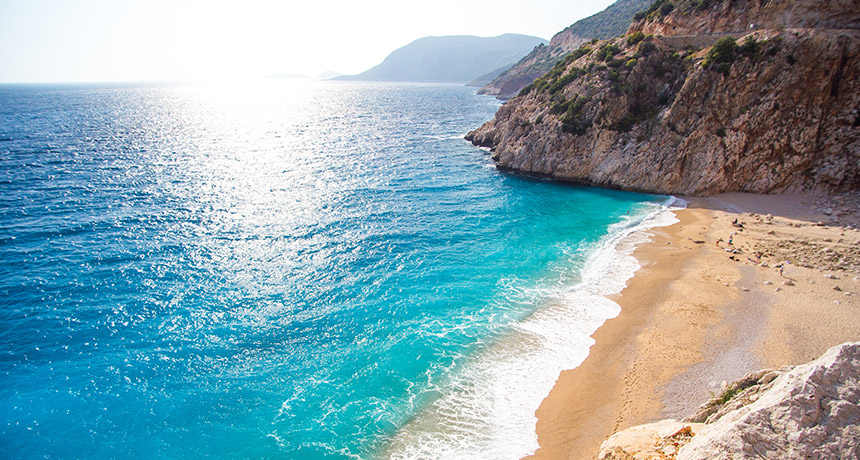 Kaputas, Turkey – if you can keep a secret
Frequently war-torn throughout history, from the ancient days of the Trojans to those of the Ottoman Empire, Turkey has had its fair share of battles. Plunge into that rich history or rest assured within the present, more tranquil times. Nestled between the beautiful little towns of Kalkan and Kas on the southwestern coast of Turkey and beneath 400 stony steps twinkles the jewel-like Kaputas Beach. Wonderfully secluded (although well-known) with paragliders swooping overhead and not a sun lounger in sight, this cove is well worth the thigh ache of getting down there (and back up again).
WHEN: May-October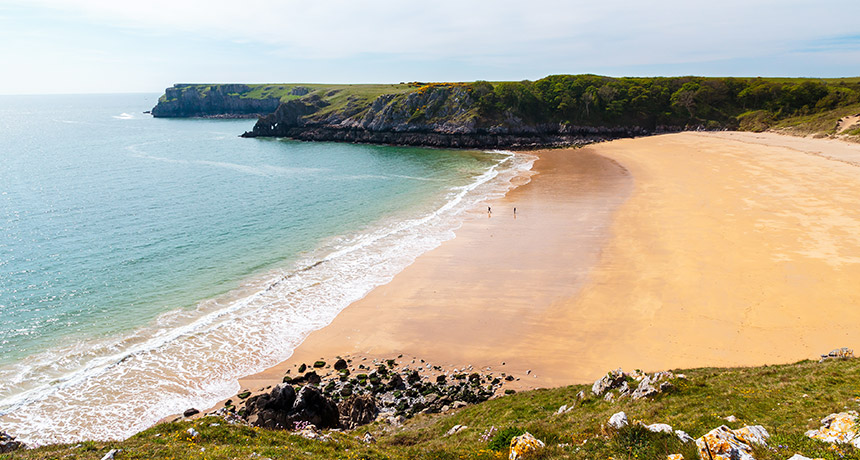 Barafundle Bay, Pembrokeshire, Wales – for British charm but Mediterranean beaches
Boasting some of the best countryside that Britain has to offer and sandy stretches that are reminiscent of far warmer climes, Wales could be the perfect mini break destination. Take a walk along the rugged cliff path from the picturesque Stackpole Quay, to find a stone archway leading to this little slice of beachy heaven. Golden sands meet the clearest of clear waters, with long headland providing some much appreciated shelter, allowing for lazy sunbathing and even a dip in the calm waters.
WHEN: July-August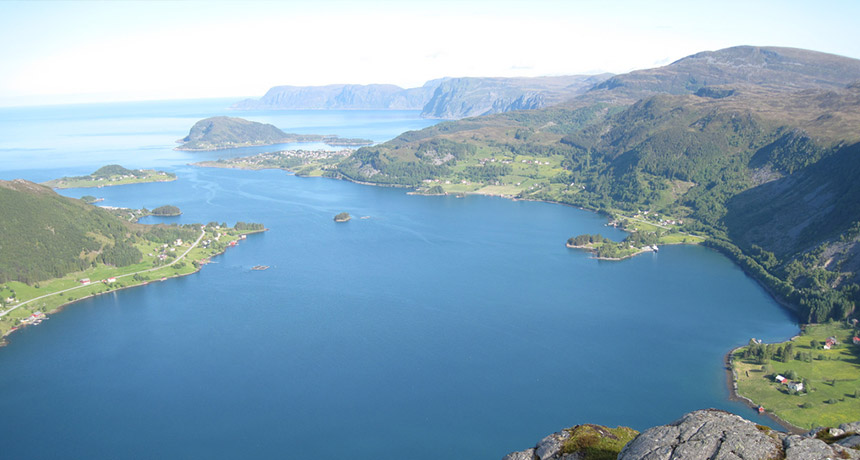 Selje, Norway – for the longest days of summer
The sun refuses to set throughout summer and why would it when the whole country remains a place of outstanding natural beauty. From serene lakes and lush wilderness to the multicoloured Scandinavian chocolate box houses that litter the bustling towns. Escape the fast-paced Oslo life and transport to a Norwegian utopia where blonde sands sweep the shore as dreamy waters lap against them. Nestled within the quaint fishing village of Selje, take a stroll along this stretch or hop on a boat to explore the dilapidated Benedictine monastery on the nearby Selja Island.
WHEN: June-August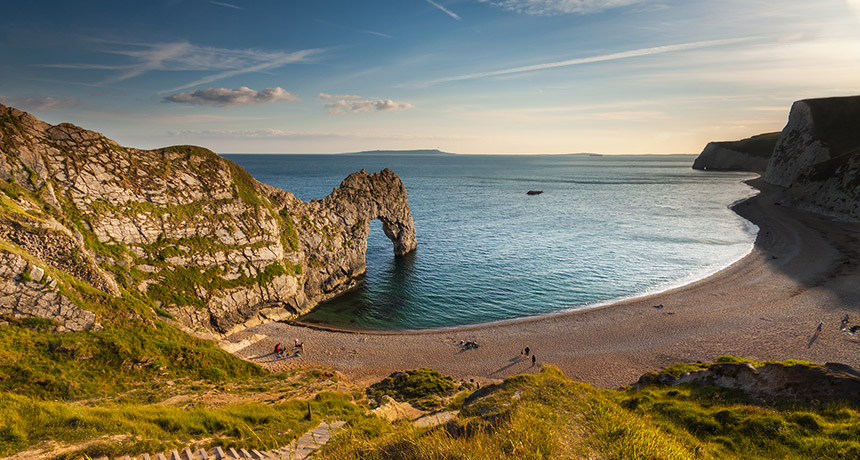 Durdle Door, Dorset, England – to capture nature at its most wondrous
With acres of countryside and beaches from sand to shingle, England remains one of the best beach destinations, especially if you're after brisk walks followed by a well deserved cream tea/hearty British ale. The natural wonder of Durdle Door's limestone arch offers the best of quirky Britain. With perfectly preserved sands and not a burger van in sight, capture this curiosity at its best with a sunset stroll complete with picnic and blanket.
WHEN: July-August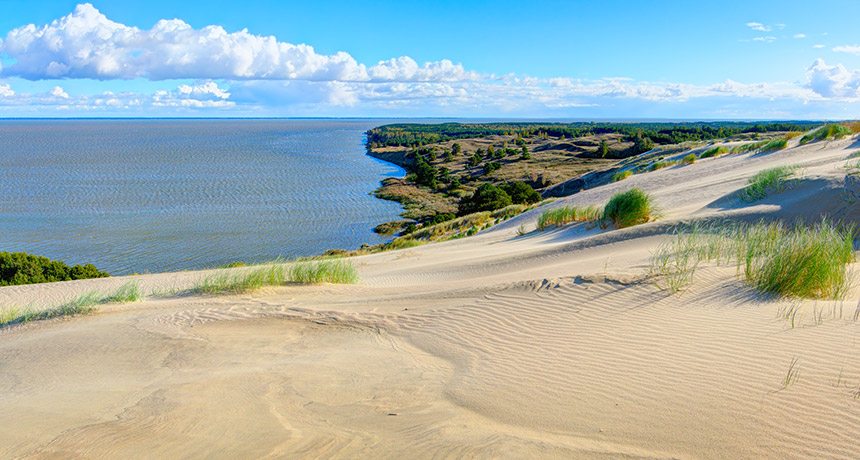 Curonian Spit, Lithuania – for otherworldliness
Far from the norm, vibrant Lithuania is one of Europe's hidden gems, filled with memories of an unusual past, white sandy beaches, rare flora and beautiful lakes. Separating the Curonian Lagoon from the Baltic Sea, this 100km UNESCO world heritage site provides a dramatic backdrop to get more than a little snap happy. With the highest moving sand dunes in Europe, marvel at the unique shadows cast across the sand and transport to another world as you explore.
WHEN: July-August
By Roxanne Golding