Beach of the Week: Arashi Beach, North West Aruba
Travel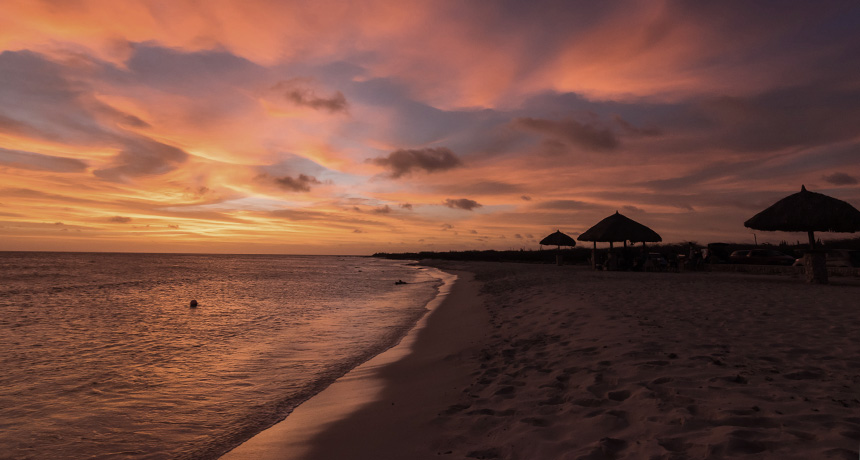 BEACH: Arashi Beach, Aruba, Caribbean
WHERE: The north-western tip of Aruba, near the iconic California lighthouse and far from the crowds.
WHY: This little gem of a beach is a secret the locals want to keep to themselves, hidden away from the popular Palm and Eagle Beach areas. Gentle currents ripple clear blue waters which are teeming with tropical fish and sea turtles, making for superb snorkelling while land-lubbers have plenty of silky snowy sand to find a secluded spot on. Arashi captures the essence of Aruba, with a lone bowed divi divi tree and the lighthouse keeping watch, creating the perfect envy-inducing holiday snaps to parade out once you get home.
HOW: Aruba is pretty compact and therefore pretty easy to get around. Rent a car for a stunning 20-minute coastal drive up to Arashi from the airport or catching a bus from outside most hotels will leave you right there. Getting there isn't the problem – it's leaving that's the tricky part.
H20 TONE: Morning glory blue
SAND TONE: Buttercream frosting
STAY: Ten minutes' drive away in the adults-only Bucuti & Tara Resort on Eagle Beach – lest you suffer from waterside withdrawal. Their stylish suites are the ideal setting in which to hole up and continue your holiday theme of undisturbed beachside seclusion.
WHEN: Aruba has one of the warmest climates in the Caribbean, boasting an average daily temperature of a positively balmy 27 degrees and hardly any rainfall, making it an eligible destination at any time of year. For the most comfortable temperatures and an even smaller chance of rain, between January and July is your best bet.