Five of the Best Beach Abodes in Chile
Travel
For such a super-skinny country Chile certainly has some geographical extremes; desert, vineyards, forests, mountains, glaciers, not to mention the beaches. Wherever you are outdoor action is never far away. Good job our pick of Chile's five best beach abodes are oozing with luxury, providing the perfect place to be pampered after a long hard day exploring (or sunbathing). Chilling in Chile sounds pretty good to us.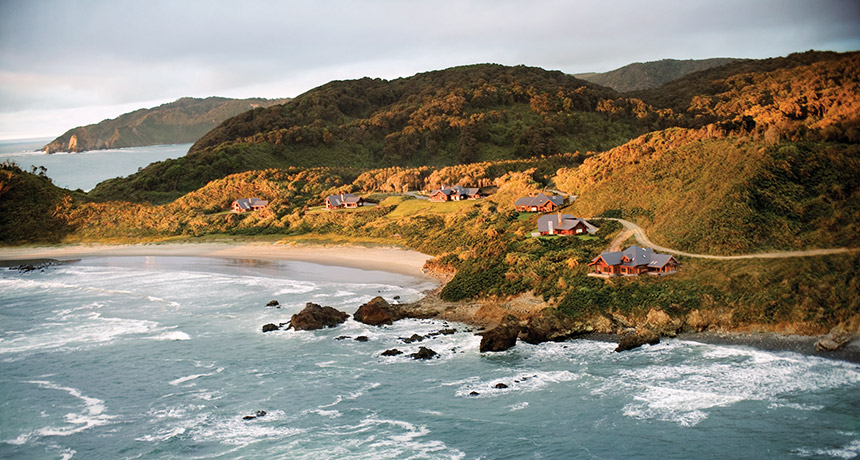 The Cliffs Preserve, Patagonia
Add a little green to your holiday snaps with a stay at this luxury eco-resort. We have a sneaky suspicion nature may have been showing off a little when she created Patagonia- verdant emerald-green forest, dramatic Pacific coastline and a wealth of wonderful wildlife – but there will be no need to sacrifice your creature comforts here. Sumptuous beds, roaring fireplaces and wood stoked hot tubs, it's a wonder if you can drag yourself out of your villa. But do make sure to venture outside, the breathtakingly beautiful scenery should not be missed. There are more than 20 miles of hiking, coastal and horseback riding trails ready and rearing to be explored. Indulge in the holistic treatments at the spa and sample the fresher than fresh Chilean food fare, all served up with a side of rugged relaxation. With mile upon mile of ocean view and vermillion sunsets, this eco-lodge begs you to recharge and refresh.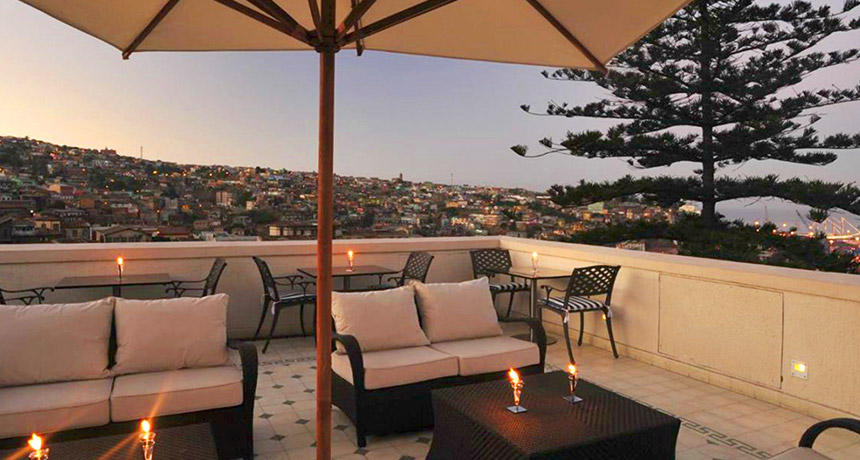 Casa Higueras, Valparaiso
Head for the hills of Valparaiso. Perched atop of Cerro Alegre, meaning Cheerful Hill (with such a happy name how could you be anything but), Casa Higueras is a once palatial mansion turned boutique hotel. Period architecture meets luxe amenities resulting in a very stylish form of nostalgia. The emphasis is on old-world elegance. The twenty spacious rooms are clad in dark-wood furniture, warms hues and splashes of brocade trimmings. Soak in the bohemian vibe of this UNESCO world heritage site from the Mediterranean style garden terrace, resplendent with an infinity pool we'd happily spend infinity in, sub-tropical foliage and not to mention that twelve-person Jacuzzi. The maze of cobbled streets, meandering alleys and tangle of steep stairways peppered with technicolor homes beckon you to explore.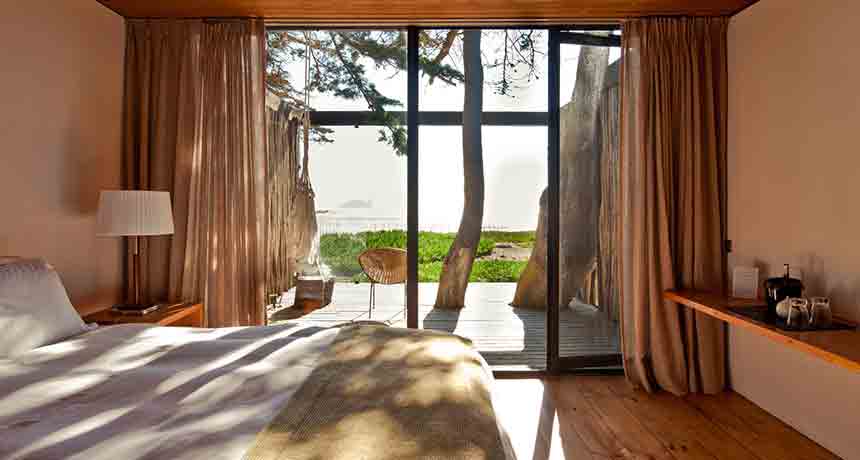 Surazo, Matanzas Bay
People who live in glass houses….live pretty rad lives. Well, those who live in the awe-inspiring architectural glass and wood structure of Surazo do anyway. A simple yet chic surf lodge on the buttery black sands of Mantanza Bay this is one natural beauty. So at one with nature is Surazo that trees grow right through parts of the hotel- you can't get much closer to Mother Nature than that. The floor-to-ceiling glass windows flood the rooms with light (but don't worry they keep the water out). Whether a seasoned surfer or wobbly novice the enclave makes for a great place to hit the waves, and the old-school alpine-style wood hot tubs are ideal for a spot of après surf.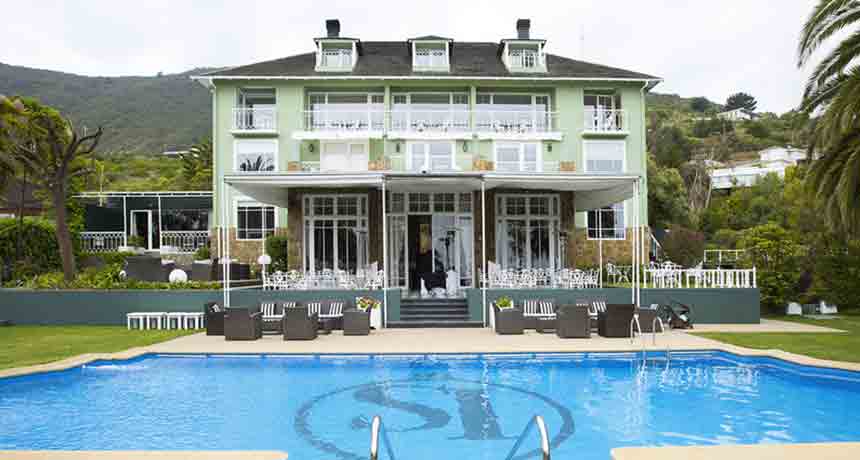 Isla Seca, Zapallar
Moss green buildings; teal green pool; verdant vegetation; turquoise ocean, you'll certainly be making your Facebook friends green with envy when you share snaps from this getaway. Zapallar (pronounced Zapayar if you want to sound like a local) is both a small fishing village and exclusive resort. The quiet beaches, soft sands and big rocks sit harmoniously amongst the manicured gardens and mega mansions. Isla Seca is nestled in a horseshoe bay in a sheltered cove. The European styled spacious rooms have a real homely feel to them with dark wood fittings and rich colours. Soak up the serenity (and rays- the surrounding steep hills create a microclimate meaning pleasant weather all year round) in the perfect place to get away from it all.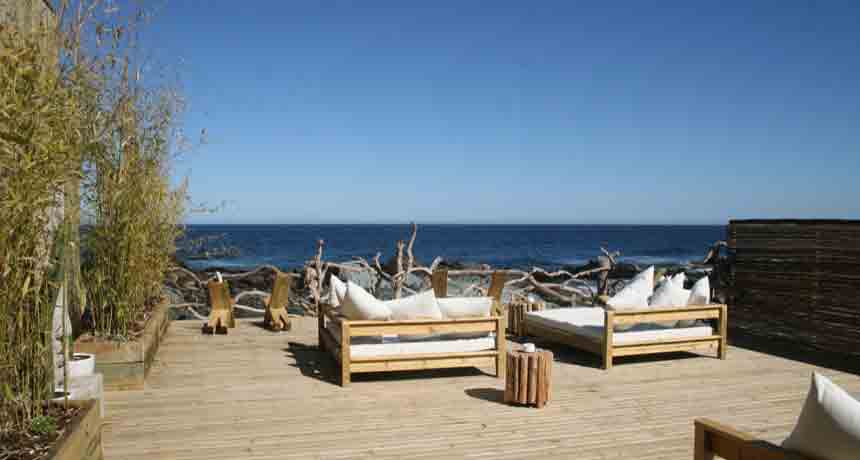 8 al Mar, Pichilemu
8 al Mar, perched on the ebony sands of Pichilemu, is a real hidden gem. A contemporary take on the cosy B&B it is free-from-floral, nature here is rugged and wild. The eight sea-facing glass-fronted bedrooms are minimalist and modern, whilst the exterior of the hotel looks like it may have sprouted from the sand itself; sun-bleached wooden deck, driftwood railings and seashells that double as table decorations. The water may be icy but the monster waves of Chile's unofficial surf capital attract some red-hot talent. Should the water be a little too chilly you can happily wile the time away in the sea-water-filled hot tubs (nice touch, eh). Crack open a bottle of Cristal (no, not the champers but the local Chilean beer) and chill. Boutique, beach, bed and breakfast- we didn't realise how many of our favourite things began with a B. Sounds like utter bliss.