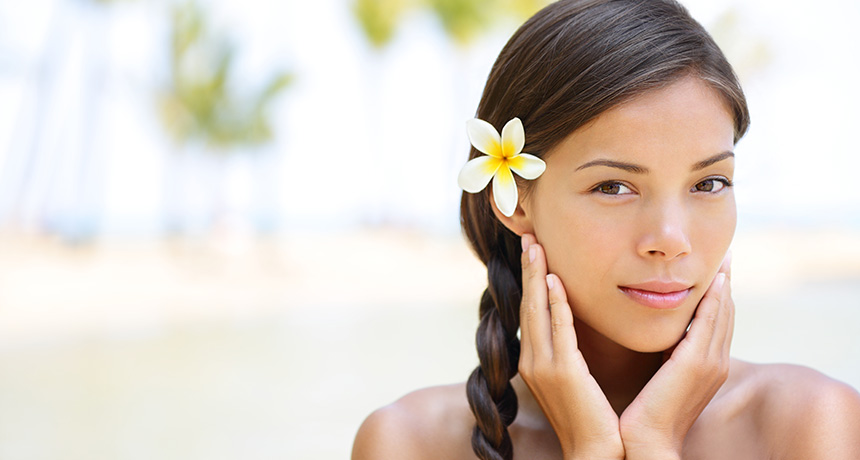 The sun is shining, the daffodils are starting to bloom and that thick winter coat is becoming a little too warm on the commute to work. That's right – spring is finally here, and that means it's time to look radiant, ditch those winter blues and dull hues and embrace the change of season.
As enthusiastic as we all are for the onset of a sunnier season, however, our poor skin actually finds this transition harder than our excited brains do. Contrasting temperatures and weather conditions often equals dull skin – boo. So, to ensure our fellow beach lovers prep for the warmer months properly, we've compiled a list of our top five tips to spring clean your skin. Goodbye ghostly pallor and thick applications of foundation, hello fresh radiant glow and reams of compliments. You're welcome.
Before we even begin on prepping the outside, it's most important to take care of the inside. The saying 'you are what you eat' has never been truer as we continue to discover how the vitamins in certain foods can literally make our skin glow. Here's our very own Radiance Salad recipe to kick start your spring skin clean.

Step 1
Begin by adding Argula – this contains vitamin A and sulphur, which work well together as a natural detoxifier. Next into the bowl is Avocado and Radish. Packed with a punch, the radish contains sulphur, silicon and vitamin C to create a beautiful mighty crunch ready to naturally plump the skin. Avocados are bursting with essential fatty oils to condition the skin. Our tip: add red peppers to compliment the avocado as these little gems help absorbs the avocado's goodness into the skin – genius. Garnish your super salad with pumpkin seeds for that last glowing boost, bursting with Omega three, six and nine to calm and sooth the skin. You'll be glowing like a light in no time at all.

Step 2
The Clarisonic Facial Brush – our new favourite facial care tool to kick-start your skincare regime, no matter what your skin type. A brush that deep cleanses, gently exfoliates and buffs your skin, you'll be left with a soft and radiant complexion ready to allow other beneficial products to sink in. The brush uses gentle sonic vibrations to gently remove dirt and impurities that the normal cotton pad cannot, giving the deepest clean with immediate visible results. No question about it, this little wireless beauty sweeps away all winter dullness.
Step 3
Compliment the facial brush with a nourishing cleanser to assist the removal of all impurities. We love Aesop's Fabulous Face Cleanser, and they call it fabulous for a reason. Enriched with Aloe leaf for soothing and Ylang Ylang for de-toxifing, these are the perfect combinations of botanical ingredients to cleanse the skin, leaving it feeling fresh and dewy.

Step 4
As we mentioned before, using the Clarisonic facial brush will leave the skin fresh and ready to absorb other skin products better than ever before and The Body Shop's Vitamin C Skin Boost is the perfect treat for a dull complexion. Packed with community fair trade Brazil nut oil, vitamin C and light reflecting particles, this serum also substitutes fantastically as a primer. Who can resist a natural product that does two jobs in one? No one? We thought so.

Step 5
Now your skin is cleansed and buffed to perfection, the ideal product to finish this spring look is the 'Touche Éclat Blur Perfector' from Yves Saint Laurent. Translated as radiant touch, the powder-in-balm compact gives radiance to the key highlighted points on the face (brow and cheek bone, upper forehead and bridge of nose if you didn't know) as well as blurring any natural imperfections. Glide this velvety balm onto freshly moisturised skin and instantly feel fresh and bright.
And there you have it, the complete radiance kit ready for the change of season; access to the look good, feel good radiance that was seen all over the London Fashion Week catwalks.